Quarterly Reports Due July 31
If you held a 2017 license at any time during the 3rd quarter 2017 (July, August, September), you MUST submit your LE-21 Quarterly Report form by October 31, 2017. The report covers the period from July 1 through September 30, 2017. Reports filed after this date will be assessed a $50 fine.
Please make sure you download and use the correct forms from our website, or use our online system.
In addition, please make sure to provide copies of daily forms for progressive bingo (LE-34a /LE-34b), progressive pull tabs (LE-31a), and progressive raffles (LE-34c). The progressive bingo forms should be updated after each bingo occasion and the pull tab and raffle forms should be updated regularly.
If you have any questions or concerns, contact Lisa Marty at lisa.marty@sos.state.co.us.
If you plan to conduct charitable gaming activities in 2018, you can apply for your annual license at any time during 2018 via the paper or online application form (please allow 7-10 working days processing time). This goes for new licenses and renewals. Licenses will be e-mailed to the organizational e-mail address, if provided, on the paper form, or can be printed directly from the summary page if you apply online (once your filing is accepted). Please review your application before submitting. Visit our forms page to download the paper license application or sign into your account if you wish to apply online. New applicants can start the process from here. Please contact Program Manager Shannon Bee by email at shannon.bee@sos.state.co.us with any questions.
The Colorado Bingo-Raffle Advisory Board makes recommendations to the Secretary of State's office in its regulation of the charitable gaming sector. All members of the public are encouraged to attend and contribute to this important dialogue. The next meeting is scheduled for:

When: Wednesday, November 15, 2017 from 10:00 AM-12:00 PM
Where: Blue Spruce Room,
1700 Broadway, 2nd floor
If you have any questions, please feel free to write us an email at public.licensing@sos.state.co.us.
Our office is committed to using our state-wide reach to provide timely and accurate data to the bingo/raffle community. We use the information you provide on quarterly reports to publish two informative datasets on our website:

Aggregate revenue report: this report contains a "roll-up" of total revenue, expense, and profit data for charitable gaming in the state.
Revenue by licensee: this report contains similar information broken down by individual bingo/raffle licensees. We began publishing this report in response to a request from our Bingo/Raffle Advisory Board.
Our website currently contains reports for calendar years 2013, 2014, 2015, 2016 and 1st and 2nd quarters 2017. We will update the reports on a quarterly basis.
Starting for 2018 licenses, landlord license applications will be required to be submitted electronically. Information for accessing the system for renewals has been sent to each current landlord, along with a training guide which is also available on our website, here. Landlord licenses can be renewed any time after November 1 for the 2018 license year. If you have any questions or concerns on creating the account or accessing the system, please contact Shannon Bee at 303 894 2200 x 6406. New landlord applicants can also access the system for the initial submission of the application and creation of your online account here.
Starting November 1, current Bingo-Raffle licensees can renew their licenses for 2018. The Secrtary of State encourages groups to file online (but paper filings are still accepted). If renewing online, the licensee needs to access their online account and use the "renew" link on their account's summary page. Please do not create a new account as these filings will need to be rejected and resubmitted through your already existing account.
When filing online, the system will only accept credit or debit cards, we do not have ACH or the ability to directly transfer funds from your accounts. The card, however, does not have to be linked directly to the bingo-raffle account. A personal card could be used (we do not retain any card information once the submission is made to our office), and then reimbursed from the bingo-raffle account (we will need adequate descriptions on the schedule A that the reimbursement was for a "loan" to repay the person using their personal card for this payment). Also, the group has the option of obtaining a prepaid card where it can be loaded with the appropriate amount to cover the payment.
Progressive raffle games were allowed in Colorado as of January 2014. We have seen an increase in the number of licensees playing these games (27 licensees in 2014, 40 licensees in 2017). We have also seen an increase in the revenue and profits.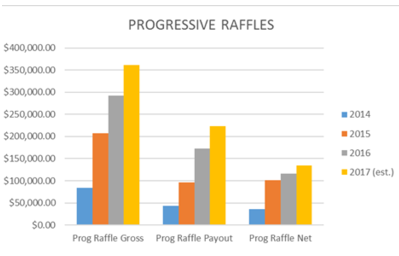 There are two types of progressive raffles allowed in Colorado, Playing Card Progressive Raffles and Members Only Progressive Raffles. There is information on our website for this type of game, including the Bingo/Raffle Law Book, a fact sheet, as well as the daily form.
Just a couple of reminders about progressive raffles:
A raffle is not considered progressive if you report it over two or three quarters.  It is a raffle where the pot (cash payout) increases at every game.
If the pot of a Playing Card Progressive Raffle could potentially exceed $1,000 before a Must Go, the raffle rules regarding special printed tickets must be done, which includes: 
A special ticket must be printed and submitted to our office prior to beginning sales. 
Every time you start a new "progressive game" you must submit a new ticket and rules.
The start date must be included on each ticket for that progression.
Provide an LE-34c with your quarterly if you have a payout.

A members only game cannot include Auxiliary or family, only members of the licensed organization.
Please make sure you submit the progressive ticket and rules to our office every time you start a new progressive. The Fact Sheet on our website provides additional information. If you have further questions always feel free to call our office.
Remember, your organization must have at least one certified Games Manager in order to run charitable games, and we recommend licensees maintain more than one. We continue to offer in-person and online Games Manager training courses.
Sign up for the online eLearning course on our website.
For in-person classes, visit our Games Manager Training page and follow the instructions to sign up for a scheduled class.
The dates/times/places of upcoming Games Manager training classes follow:
Saturday, November 18, 2017 at 8:30 AM. American Legion 4, 2124 County Rd 54G, Fort Collins, CO 80524
You can also sign up to host a Games Manager training course. Follow this link to provide us with a few details about you and your organization, and host a class soon.
The Games Manager mail-in certification exam is no longer available.
Each quarter, we include a few tips from our Bingo/Raffle Investigators. They gather a lot of information in the field on where licensees have trouble complying with the law. By sharing this information, we hope that licensees can better serve their customers.
AN URGENT MESSAGE FROM THE INVESTIGATORS:
A reminder to all licensees that the Games Manager is only in charge of running charitable games in compliance with the laws and rules. The Games Manager is not to be solely in charge of all aspects of gaming activity. It is the duty of the games managers, the governing board of the licensee, and the individual acting in the role of a treasurer on behalf of the licensee, to be responsible for the maintenance of books and records and the filing of the reports. It is also their responsibility to be familiar with all applicable provisions of state law. Section 24-21-617(7)(a), C.R.S.
Your governing board and treasurer should maintain control over the books and records, and expend proceeds according to the licensees bona fide expenses and legal purposes. Sole control over the checkbook, through either depositing or spending proceeds from charitable gaming, can lead to problems down the road. It is a best practice that the Games Manager conducts the game, and other members of the licensee manage the banking.
If you are having difficulty with your daily record keeping, please let us know. We will help you sort out the daily records. Don't allow your daily record keeping to become a violation of the laws and rules.
You can access all bingo/raffle laws using our Bingo-Raffles Law Handbook.