Quarterly Reports Due January 31
If you held a 2013 license, you MUST submit your LE-21 Quarterly Report form by January 31, 2014. The report covers the period for October through December. Reports filed after this date will be assessed a $50 late filing fine.
Remember, quarterly fees have reverted to prior levels, so please make sure you download and use the correct forms from our website.
If you have any questions or concerns, contact Lisa Marty at lisa.marty@sos.state.co.us.
The Colorado Bingo-Raffle Advisory Board provides guidance to the Secretary of State's office in its regulation of the charitable gaming sector. All members of the public are encouraged to attend and contribute to this important dialogue. The Advisory Board will open up the year with a February meeting.

When:  Wednesday, February 12 at 10:00am  
Where: 1700 Broadway,  Denver, CO 80290, Blue Spruce Room (Second Floor) 
Come join the meeting to share your thoughts on bingo and raffle activities in our state.
Remember, you must hold a 2014 bingo/raffle license BEFORE conducting any charitable gaming during the year. So far, only about 421 of 2013 licensees have renewed (see graph below). To avoid any issues in the future, please visit our forms page to download the license application and contact Program Manager Shannon Bee by email at shannon.bee@sos.state.co.us with any questions.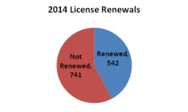 Remember, your organization must have at least one certified Games Manager in order to run charitable games. We continue to offer in-person and online Games Manager training courses.
Sign up for the online eLearning course on our website.
For in-person classes, visit our Games Manager Training page and follow the instructions to sign up. We currently have classes scheduled for January 11 in the Denver Metro Area and January 16 in Colorado Springs.

You can also sign up to host a Games Manager training course. Follow this link to provide us with a few details about you and your organization, and host a class soon.
New in 2014: Progressive Raffles
As we've reported in our last couple of newsletters, Colorado bingo/raffle licensees can start running specific types of progressive raffles as of January 1, 2014. The two types of allowable progressive raffles are Playing-Card Progressive Raffles and Members-Only Progressive Raffles. Our office has compiled a number of different resources to help licensees learn about the new games:
As always, we are happy to answer any questions you may have about these new games. Feel free to write us at licensing@sos.state.co.us, or call us at (303) 894-2200.
Many Coloradans may have trouble pointing to Crested Butte on a map, but after hearing about the "raucous and rowdy" bingo events hosted by KBUT Community Radio, you may want to do a Google search to locate this magnificent mountain community.
Josh Elmer, Events and Volunteer Coordinator and host of "The Van Down By the River Show" since 2002, says that bingo and raffle events make financial sense for KBUT. Proceeds allow the station to purchase equipment and music, and to provide training to their staff and over 90 volunteers who keep their station running.  Since bingo games started in 1997, KBUT has brought in over $72,000 to their bingo/raffle fund, benefiting the 90% of Gunnison County that the station reaches.  
The key to success? Fun. Nowhere is this attitude more evident than in KBUT's infamous "this-ain't-your-grandmother's" Bingo which, according to their website, consists of "10 different games of number-calling fun, complete with adult beverages, poorly conceived jokes and puns, 'socials', name-calling, and all the getting-daubered-by-your-neighbor you can handle."  The goal of these bingo and raffle events is to have fun, which keeps the community engaged. 
Asked for his personal thoughts and advice for charities looking to start a bingo and raffle event, Elmer first recommends working with the Secretary of State's office to get licensed, and then to get out and schedule events.  This begins the process of building community support.  "If you build it, they will come," he says. 
KBUT is just one of over 1,200 Colorado organizations doing great work using funds raised through charitable gaming. Read more about KBUT and other Colorado nonprofits on our Success Story webpage.
And while you're at it, tell us your story! Submit your idea for a success story to greg.lestikow@sos.state.co.us. Please include the name of your organization and two or three sentences about the work that you do with bingo and raffle proceeds. We look forward to hearing from you!
The graph below shows quarterly profits by game type for the first three quarters of 2014. In the past several years, raffles have overtaken all other games types as the most profitable both in absolute terms and as a percentage of gross proceeds. Pulltabs at bingo occasions are second in generating profits, while bingo itself sits at third with just over $2.25 million in profits for the first three quarters of the year.
Look out for our next newsletter, where we will present figures for all of 2014, and check out our website to access our detailed quarterly financial report.