News Release
Media contact

Serena Woods
Cell: (541) 913-3194
Office: (303) 860-6903
serena.woods@sos.state.co.us
State of Colorado
Department of State
1700 Broadway
Suite 250
Denver, CO 80290
Jena Griswold
Secretary of State
Jenny Flanagan
Deputy Secretary of State

News Release
State of Colorado
Department of State
1700 Broadway
Suite 250
Denver, CO 80290
Jena Griswold
Secretary of State
Jenny Flanagan
Deputy Secretary of State
Media contact
Cell: (541) 913-3194
Office: (303) 860-6903
Serena Woods - serena.woods@sos.state.co.us
Secretary Griswold releases the final business report of 2018
DENVER, Jan. 23, 2019 -- Colorado's economy continues to lead among other states' nationally, according to a business report released today by Secretary of State Jena Griswold.
New business entity filings grew increased by 5.1 percent in the fourth quarter of 2018.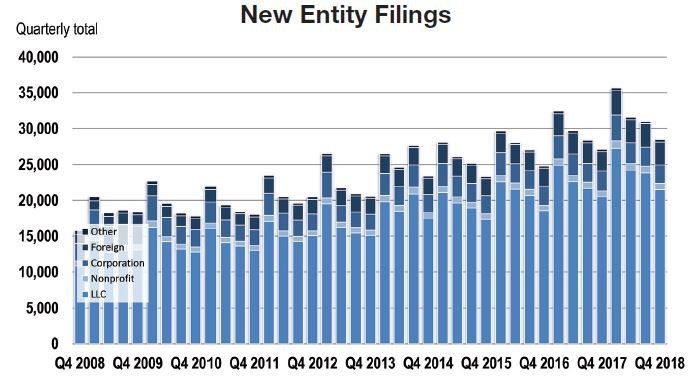 Click on the image to see a full-sized version.
Over the final quarter of 2018, 28,473 new businesses filed with the Secretary of State's office, and there were 134,220 business renewals. These represent slight decreases compared to the previous quarter but were consistent with the seasonal pattern.
The Business Research Division at the University of Colorado Boulder publishes the report using data from the Secretary of State's central business registry. The report looks at a variety of factors, such as energy costs, the labor market, and inflation.
"I am excited to continue this important partnership with the University of Colorado Leeds School of Business to provide Colorado's business community with information that will help them succeed," Griswold said. "Despite some uncertainty at the national level, the data shows Coloradans continue to open new businesses. I am optimistic that this, along with the projected increase in employment, indicates that Colorado will have steady economic growth in 2019."
The quarterly business and economic indicators report predicts continued employment growth into the first and second quarters of 2019. Initial and continuing jobless claims in Colorado increased over the quarter, but still marked an improvement year-over-year. In November 2018, Colorado added 69,100 jobs when compared year-over-year, a growth of 2.6 percent.
Data from the Bureau of Labor Statistics shows that average Colorado wages increased by 5.3 percent compared to 4.1 percent nationally. Average wages in Colorado were $57,858 compared to the national average of $56,374.
According to Richard Wobbekind, Executive Director of the Business Research Division, "Data from the prior four quarters about new entity filings and existing entity renewals indicate continued growth in Colorado's labor market in 2019."
Colorado's labor force participation continues to climb and remains a leader nationwide. At 69.1 percent, participation rated third in the country and six percentage points higher than the national rate.
The state's economy continues to record strong growth in employment, personal income, wages, and GDP. However, business leaders expressed a bearish tone looking ahead two quarters. They were decidedly negative about the national economy but remained slightly positive about the state economy, industry sales, profits, hiring, and capital expenditures.
Q4 2018 Quarterly Business & Economic Indicators Report (PDF)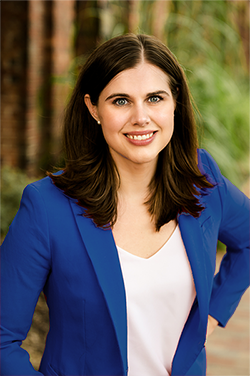 Secretary of State Jena Griswold