News Release
Media contact

Serena Woods
Cell: (541) 913-3194
Office: (303) 860-6903
serena.woods@sos.state.co.us
State of Colorado
Department of State
1700 Broadway
Suite 250
Denver, CO 80290
Jena Griswold
Secretary of State
Jenny Flanagan
Deputy Secretary of State

News Release
State of Colorado
Department of State
1700 Broadway
Suite 250
Denver, CO 80290
Jena Griswold
Secretary of State
Jenny Flanagan
Deputy Secretary of State
Media contact
Cell: (541) 913-3194
Office: (303) 860-6903
Serena Woods - serena.woods@sos.state.co.us
Secretary of State Jena Griswold Calls on Washington to End Shutdown, Citing Shutdown's Effect on Federal-State Work on Election Security
DENVER, Jan. 22, 2019 -- Colorado Secretary of State Jena Griswold is calling on Washington to end the partial Federal government shutdown, as it is impacting the work of Colorado's Department of State.
"Playing politics over a border wall is affecting actual national security issues by hindering states' abilities to enhance election security," said Griswold. "In a time when we know foreign governments are actively trying to influence U.S. elections, the federal government's closure is reckless."
One example of the shutdown's effect on election security in Colorado concerns a group of election security experts who had to postpone meeting last week. The Governmental Coordinating Council, or GCC, consists of 26 members that are secretaries of state, state election directors, and local election officials. The council is staffed by the Department of Homeland Security and has a prominent role in the development and implementation of federal election security protections. Since January 6, 2017, when Secretary of Homeland Security Jeh Johnson designated elections as critical infrastructure, the GCC has played a critical role in improving election security.
Due to the shutdown, last Wednesday's full GCC meeting was canceled. Another in-person meeting in Washington, D.C. on Jan. 31 is also in jeopardy.
"Honestly, this government shutdown is the first thing to slow us down," said Judd Choate, GCC member and Colorado state election director. "We canceled a very important meeting because the Department of Homeland Security was not permitted to staff it due to the closure."
This comes on the heels of the Department of Homeland Security canceling a security briefing on elections with the Colorado Secretary of State's office earlier this month.
"Our IT department is focused on providing the best election security. Colorado's elections remain safe and secure, but we need our partners in the Federal Government to get back to work," said Trevor Timmons, Chief Information Officer at the Colorado Department of State.
Attorneys from the Department of Justice, Civil Rights Division also canceled a meeting last week. Those attorneys were traveling to Colorado to better understand how Colorado complies with the National Voter Registration Act, NVRA. This meeting is indefinitely postponed, but Colorado remains available to assist the Department of Justice when the government opens again.
The government shutdown is also affecting Colorado's business community. The Colorado Secretary of State's office is still open and offering all services for existing and newly formed businesses; however, at the federal level, that is not the case.
The Small Business Administration, or SBA, an organization that the Secretary of State's Office frequently partners with, is closed due to the shutdown. The SBA helps Coloradans start small businesses by providing funding in the form of grants, loans, or bonds. Businesses that need those funds to get started are stymied. The shutdown does not affect the ability to file online with the Secretary of State's office and Coloradans can still open a business, but do not have access to the SBA's resources.
"The government shutdown is creating barriers for Colorado's small business owners and entrepreneurs. Our economy is growing, and we cannot allow manufactured hurdles to slow us down," said Griswold.
While the federal government shutdown extends into its 32nd day, the Colorado Secretary of State's office remains open.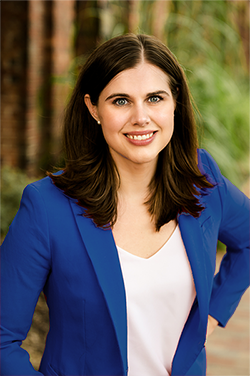 Secretary of State Jena Griswold