News Release
Media contact
(303) 860-6903

Lynn Bartels
lynn.bartels@sos.state.co.us

Julia Sunny
julia.sunny@sos.state.co.us
State of Colorado
Department of State
1700 Broadway
Suite 250
Denver, CO 80290
Wayne W. Williams
Secretary of State
Suzanne Staiert
Deputy Secretary of State

News Release
State of Colorado
Department of State
1700 Broadway
Suite 250
Denver, CO 80290
Wayne W. Williams
Secretary of State
Suzanne Staiert
Deputy Secretary of State
Media contact
(303) 860-6903
Lynn Bartels - lynn.bartels@sos.state.co.us
Julia Sunny - julia.sunny@sos.state.co.us
Secretary Williams honors four Coloradans instrumental in supporting post-election audit
DENVER, Sept. 5, 2018 -- Secretary of State Wayne Williams tonight honored four Coloradans who proposed and shepherded legislation requiring Colorado to conduct the kind of post-election audits that are now drawing rave reviews nationwide from election security officials.
Williams presented awards to Boulder County Clerk Hillary Hall, former clerks Jack Arrowsmith of Douglas County and Pam Anderson of Jefferson County, and Trey Rogers, former Gov. Bill Ritter's legal counsel.
The four were key partners in advancing state legislation requiring Colorado's county clerks to conduct risk-limiting post-election audits, which are scientifically designed to catch outcome-altering mistakes when ballots are tabulated.
"Thanks to these individuals' work, Coloradans have evidence-based assurance that the outcomes of Colorado elections are correct and reported accurately," Secretary Williams said.
"In a world where threats to the integrity of our elections are widely publicized, this assurance is critical. The risk-limiting audit means we can say with very high statistical confidence that no one in Moscow, Tehran or anywhere else in the world manipulated or changed the outcome of our election."
Williams presented each recipient with a National Association of Secretaries of State Medallion Award. NASS allows secretaries of state to give out a limited number of the awards to a person or organization who has made an enormous contribution to their office.
The awards were presented at a dinner at the Inverness Hotel in Englewood on the eve of a cybersecurity training exercise that Williams is hosting Thursday. It will feature more than 200 staffers from county clerk offices and national leaders in elections and cybersecurity.
As a result of the effort of the four Medallion recipients, the Colorado General Assembly in 2009 passed legislation requiring counties to conduct risk-limiting post-election audits. The procedure provides strong statistical evidence that the election outcome is right and has a high probability of discovering and correcting a wrong outcome, if one exists.
Williams and the county clerks conducted the first risk-limiting audit after the November 2017 coordinated election. The event attracted computer and political scientists, statisticians and mathematicians, and election integrity advocates and officials from across the country. The secretary commissioned a documentary video to record that first-in-nation milestone for posterity.
Colorado's county clerks conducted another risk-limiting audit after the 2018 primary election, and will continue to conduct RLAs after all elections conducted by county clerks in the future.
The collaborative effort of Anderson, Arrowsmith, Hall and Rogers to spearhead the RLA legislation turned out to be prescient.
They conceived and promoted the legislation fully seven years before large media outlets reported widespread concerns of "election hacking" during the 2016 presidential election. Elections security professionals around the country now agree that using paper ballots and conducting risk-limiting audits before certifying official results is the best protection against both inadvertently incorrect and maliciously manipulated election outcomes.
Common Cause, the League of Women Voters, Verified Voting Foundation, the American Statistical Association and the Election Verification Network all endorse RLAs as the gold standard of post-election audits.
This makes nine NASS Medallion Awards Williams has handed out since he became secretary of state in 2015. The other recipients were former Secretary of State Natalie Meyer, former Secretary of State Donetta Davidson and attorney John Moye, former Morgan County Clerk Connie Ingmire and the Douglas County School Board.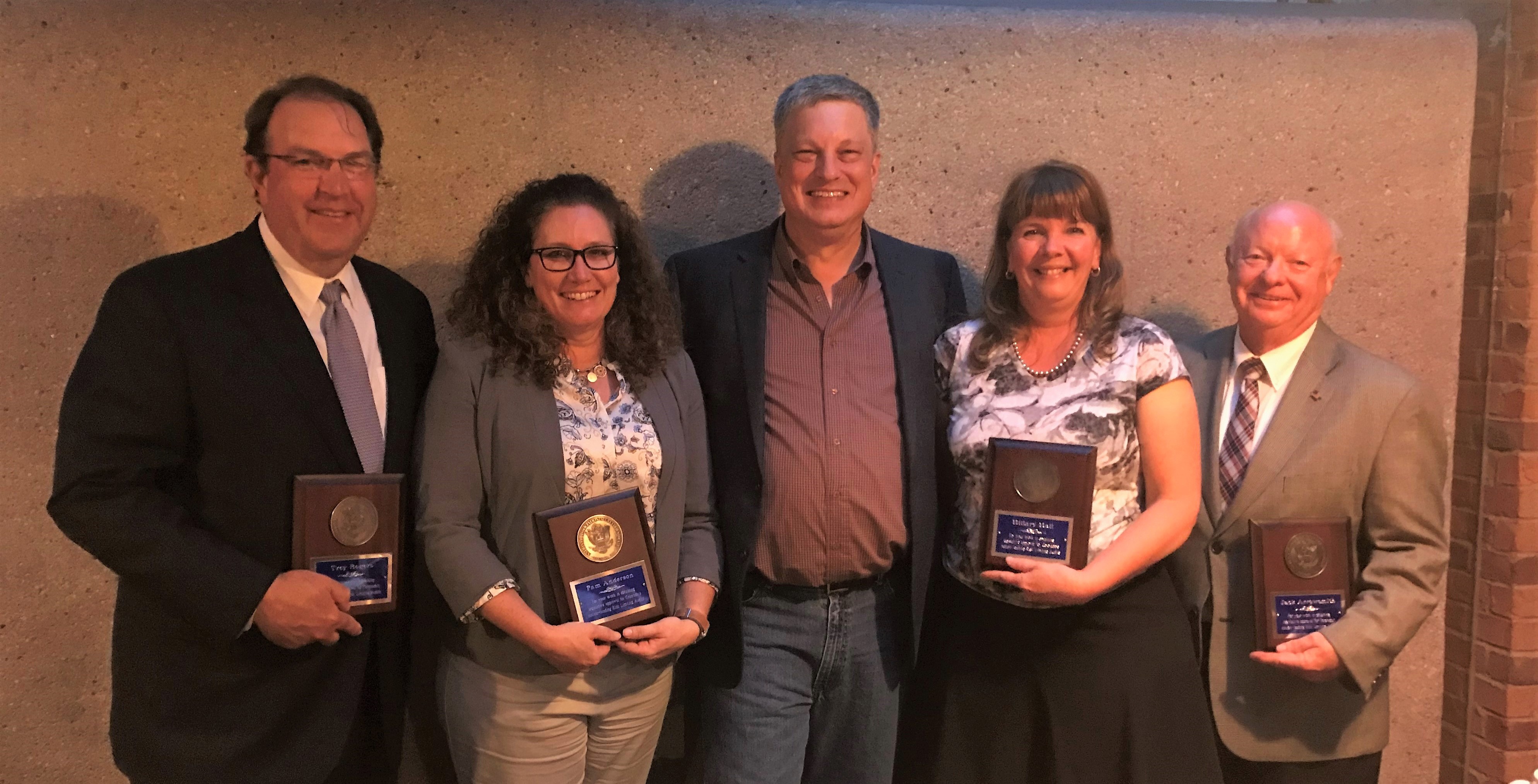 Colorado Secretary of State Wayne Williams poses with the four recipients who tonight received NASS Medallion awards for their exceptional service to the office. From left to right, attorney Trey Rogers, former Jefferson County Clerk Pam Anderson, Secretary Williams, Boulder County Clerk Hillary Hall and former Douglas County Clerk Jack Arrowsmith.