News Release
Media contact
(303) 860-6903

Lynn Bartels
lynn.bartels@sos.state.co.us

Julia Sunny
julia.sunny@sos.state.co.us
State of Colorado
Department of State
1700 Broadway
Suite 250
Denver, CO 80290
Wayne W. Williams
Secretary of State
Suzanne Staiert
Deputy Secretary of State

News Release
State of Colorado
Department of State
1700 Broadway
Suite 250
Denver, CO 80290
Wayne W. Williams
Secretary of State
Suzanne Staiert
Deputy Secretary of State
Media contact
(303) 860-6903
Lynn Bartels - lynn.bartels@sos.state.co.us
Julia Sunny - julia.sunny@sos.state.co.us
U betcha! Unaffiliated voter campaign kicks off
GRAND JUNCTION, March 30, 2018 -- Colorado Secretary of State Wayne Williams today rolled out a campaign intended to help unaffiliated voters correctly fill out their ballots in the June 26 primary election.
Former Secretary of State Bernie Buescher of Grand Junction, Mesa County Clerk Sheila Reiner and others joined Williams in talking about the campaign, including how unaffiliated voters can ask to receive a Republican or a Democratic ballot. Voters who don't state a preference and get both ballots in the mail can only return one marked ballot -- if they vote both, the ballots will be rejected.
"Coloradans in 2016 allowed unaffiliated voters to automatically participate in primary elections," Williams said. "We want to make sure those votes count."
Williams also will hold news conferences Tuesday in Colorado Springs and Denver.
Featured at the Grand Junction event was an 8-foot, yellow, inflatable "U" that is part of the "UChooseCO" campaign developed by Forté Advertising to reach unaffiliated voters, mostly through digital efforts. The "U" will be moved to various locations in Grand Junction over the next few weeks, and Colorado Springs and Denver each will have their own yellow U. 
Unaffiliated voters through early May can go to www.govotecolorado.com and choose a Republican or a Democratic ballot, and Clerk Reiner said she is grateful for that provision.
"We are customer-service oriented and want to provide the easiest voting experience possible," she said. "We are also stewards of taxpayers' money. If an unaffiliated voter can give us a preference in advance by visiting www.govotecolorado.com their ballot packet will cost the county 62 cents instead of $1."
As of Tuesday, 29,484 of Colorado's 1.4 million unaffiliated voters have indicated a preference. Of that, 54 percent asked for a Democratic ballot and 40 percent a Republican ballot. The rest asked for minor-party ballots but if there is no minor-party primary they will get both a Republican and Democratic ballot. 
As part of the campaign, unaffiliated voters who intended to vote in the 2018 election were polled last December. Forty-seven percent were unaware they could vote in the primary, 39 percent said they planned to participate and 28 percent were undecided. The top reason unaffiliated voters gave for not voting in a primary election was unfamiliarity with the candidates on the ballot.
The measure has no impact on Republicans or Democrats, who will receive a primary ballot with their candidates' names.
Here's more information on the news conferences on Tuesday, April 3:
COLORADO SPRINGS: 10:30 a.m. at Pioneers Museum, 215 S. Tejon St.  Mayor John Suthers, El Paso County Clerk Chuck Broerman and City Council President Richard Skorman, who is unaffiliated, are among the speakers.
DENVER: 2 p.m. on the west steps of the state Capitol. Kent Thiry, chairman and CEO of DaVita, will talk about why he led and funded Proposition 108, which allowed for automatic primary participation for unaffiliated voters. The measure passed 53 percent to 47 percent. Other speakers include Kelly Brough, president and CEO of the Denver Metro Chamber of Commerce, and Sen. Dominick Moreno, D-Commerce City, unless he is tied up in budget negotiations.  
The campaign has handed out unpainted wooden U's and asked recipients to decorate them, much like the Mask Project, to express what they value about our great state. Williams' staffers had a little bit of fun decorating one for him, which they said was based on his favorite Fs: family, faith, freedom and food.
The campaign has its own web page at UChoose.co.gov and Facebook page, Twitter account and hashtag, #UChooseCO.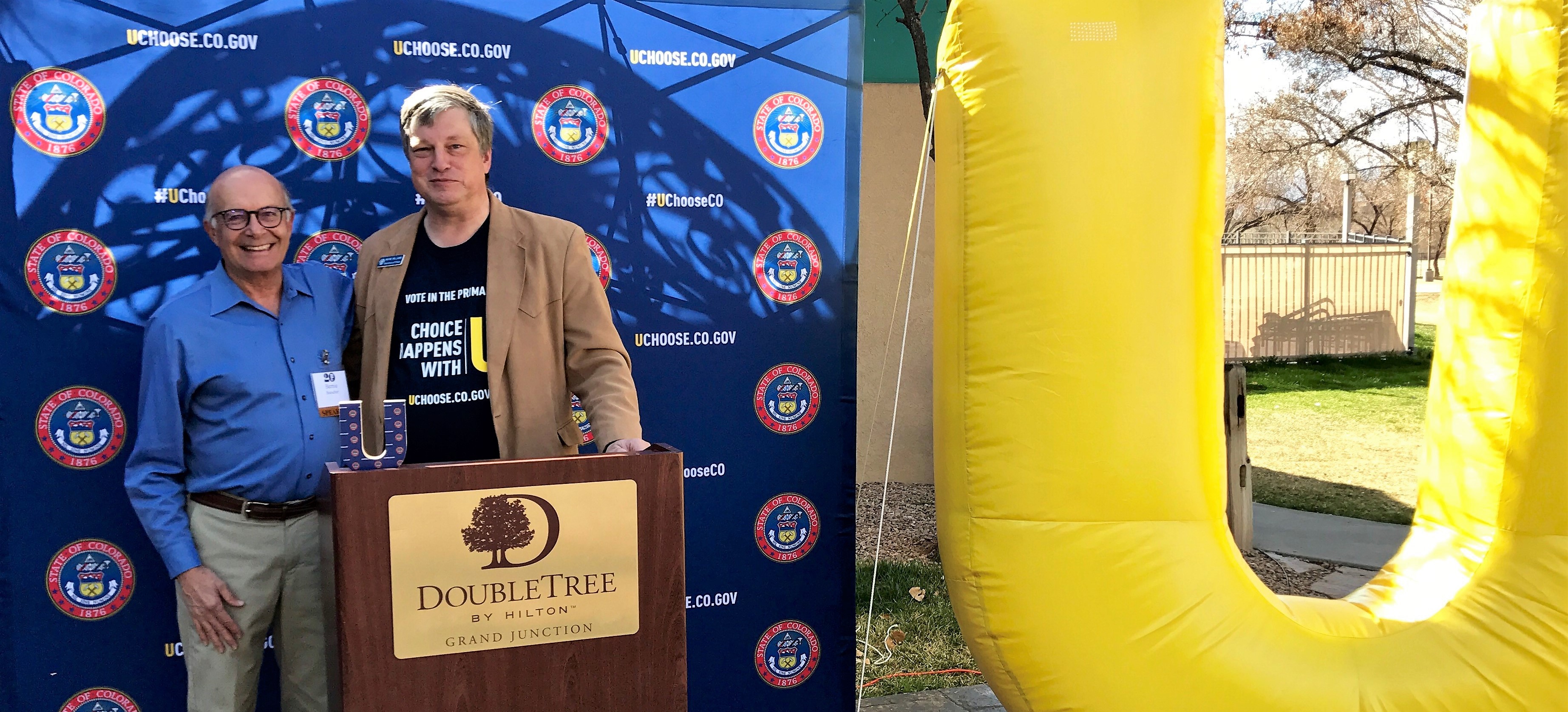 Former Secretary of State Bernie Buescher and the current officeholder, Wayne Williams, at the news conference this morning.