News Release
Media contact
(303) 860-6903

Lynn Bartels
lynn.bartels@sos.state.co.us

Julia Sunny
julia.sunny@sos.state.co.us
State of Colorado
Department of State
1700 Broadway
Suite 250
Denver, CO 80290
Wayne W. Williams
Secretary of State
Suzanne Staiert
Deputy Secretary of State

News Release
State of Colorado
Department of State
1700 Broadway
Suite 250
Denver, CO 80290
Wayne W. Williams
Secretary of State
Suzanne Staiert
Deputy Secretary of State
Media contact
(303) 860-6903
Lynn Bartels - lynn.bartels@sos.state.co.us
Julia Sunny - julia.sunny@sos.state.co.us
Colorado Secretary of State's office nominated for innovation award
DENVER, Feb. 20, 2018 -- For the fourth time in five years, the Colorado Secretary of State's office has been named a finalist for an award that recognizes innovation, excellence and achievement in public programs.
Colorado's entry this year involves the office's efforts concerning cybersecurity, the topic that dominated the National Association of Secretaries of State's winter conference, which ended Monday in Washington, D.C.
As a member of NASS' executive committee, Colorado Secretary of State Wayne Williams last week met with the secretary of Homeland Security, Kirstjen M. Nielsen. (A photo of that meeting is attached.) Today she released a statement about cybersecurity and the nation's election infrastructure.
In its submission for the IDEAS award, Colorado outlined its cybersecurity practices. NASS announced Monday that Colorado and three other states were finalists.
"I'm honored that our peers recognize Colorado's leadership on cybersecurity," Williams said.
"Our staff leads the nation in election security innovation. We have found secure ways to make it easy to vote -- even for deployed military in the most remote places -- while also making it difficult to cheat. It's not a simple fix. Rather, we've delivered a comprehensive suite of solutions that have garnered national attention and praise."
The other Secretary of State offices nominated for the IDEAS award are California, Indiana and Wyoming. The winner of the IDEAS award, which was first presented in 2011, will be chosen at NASS' summer conference in Philadelphia in July. (Colorado's entry is included in this release.)
Colorado first won the award in 2014, for the office's eLearning platform developed under former Secretary of State Scott Gessler. It helps Coloradans understand the processes for starting a business, raising money for a charity or other government-related tasks by simply going online. The following year, Colorado Secretary of State Wayne Williams accepted the IDEAS award for the Business Intelligence Center/Go Code Colorado program, which takes public data and turns it in a useful apps for businesses.
Colorado was a finalist in 2016 for its groundbreaking "Accountability in Colorado Elections" or ACE program, which takes reams of election data and puts it into easily readable charts and maps.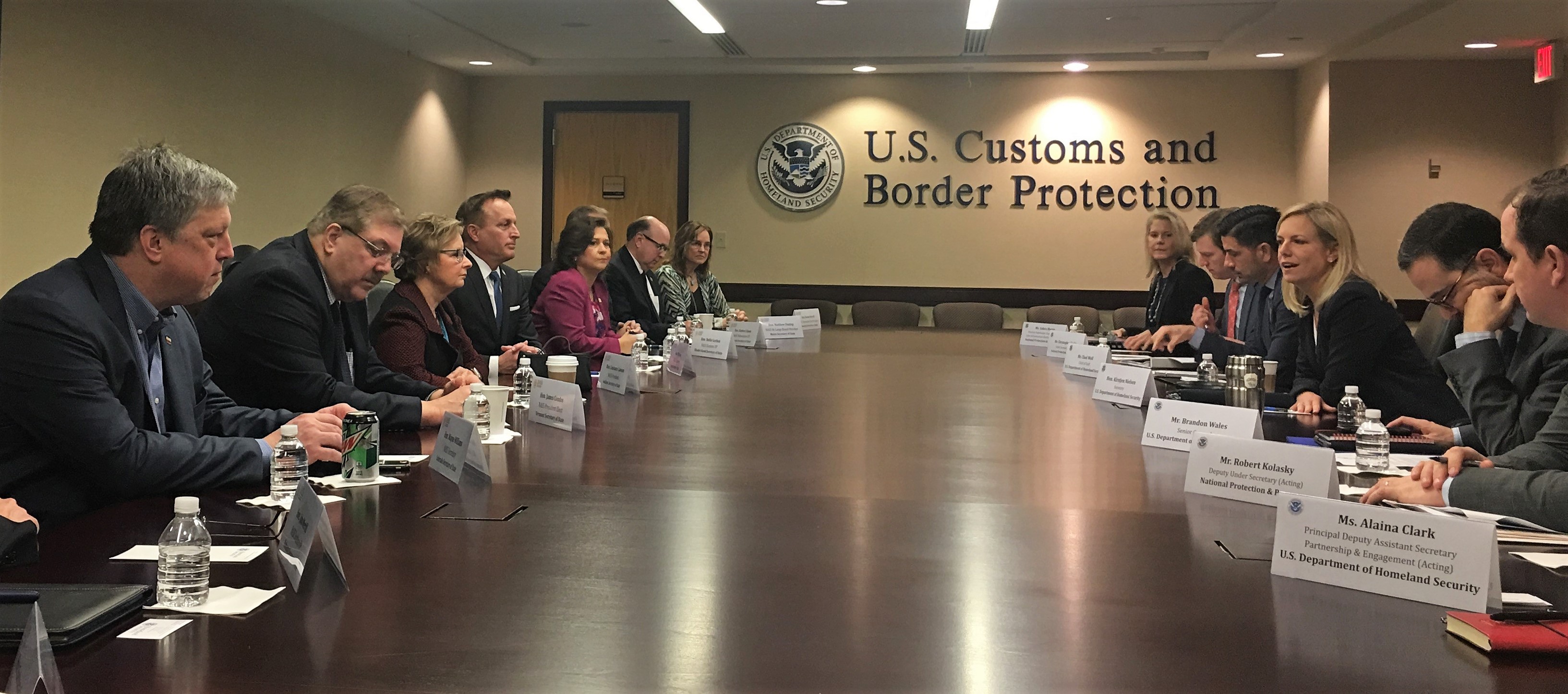 Colorado Secretary of State Wayne Williams, left, and other secretaries of state, meet Feb. 15 with Homeland Security Director Kirstjen M. Nielsen and other security officials.