Quarterly Reports Due July 31
If you held a 2020 license at any time during the 2nd quarter 2020, you MUST submit your LE-21 Quarterly Report form by July 31, 2020. The report covers the period from April 1 through June 30, 2020. Reports filed after this date could be assessed a $50 fine.
Filing quarterly reports using our online system is cheaper than filing paper forms. If needed, all paper forms can still be found on our website, including all daily forms.
Please make sure to provide copies of daily forms for progressive bingo (LE-34a), progressive pull tabs (LE-31a), and progressive raffles (LE-34c) with your submission. The progressive bingo forms should be updated after each bingo occasion and the pull tab and raffle forms should be updated regularly.
If you have any questions or concerns, contact Lisa Marty at lisa.marty@sos.state.co.us.
2020 Bingo-Raffle Licenses
If you plan to conduct charitable gaming activities in 2020, you can apply for your annual license at any time during 2020 via the online or paper application form (please allow 7-10 working days processing time). This applies to both new licenses and renewals. Licenses can be printed directly from the summary page if you apply online (once your filing is accepted) or e-mailed to the organizational e-mail address, if provided, on the paper form. To minimize unnecessary delays, please review your application before submitting. Sign into your account if you wish to apply online or visit our forms page to download the paper license application. New applicants can start the process from here. Please contact Program Manager Shannon Bee by email at shannon.bee@sos.state.co.us with any questions.
Bingo/Raffle Advisory Board
The Colorado Bingo-Raffle Advisory Board makes recommendations to the Secretary of State's office in its regulation of the charitable gaming sector. All members of the public are encouraged to attend and contribute to this important dialogue. The last meeting of the Board was held on March 6, 2019. The next meeting is scheduled for:
When: TBD
Where: TBD
Though there are no current meetings scheduled, if you have any topics that you'd like addressed by the Board, please reach out to them to have your idea noted for discussion. Their contact information can be found here.
If you have any questions, please feel free to send us an email at public.licensing@sos.state.co.us.
We would also like to remind current members of the Board that there is a statutory requirement that they complete yearly Board training. This training is available here under Bingo-Raffle Advisory Board training.
Bingo/Raffle Financial Reports.
Our office is committed to using our state-wide reach to provide timely and accurate data to the bingo/raffle community. We use the information you provide on quarterly reports to publish two informative datasets on our website:

Aggregate revenue report: this report contains a "roll-up" of total revenue, expense, and profit data for charitable gaming in the state.
Revenue by licensee: this report contains similar information broken down by individual bingo/raffle licensees. We began publishing this report in response to a request from our Bingo/Raffle Advisory Board.
Our website currently contains reports for calendar years 2013 through 2019. Reports are updated quarterly.
E-Filing Quarterly Reports
As we move to the second half of 2020, our office continues to keep both our customers and employees safe by staying closed to in-person service.  Also, due to COVID-19, the mail to our office is only delivered and processed once a week.  Due to this limited access to mail, we continue to encourage you to try e-fling your quarterly reports (and if you need assistance, please contact us via the methods noted below and we can assist with any issues). 
Remember, online quarterly reports are structured just like the paper report, except now it will take the place of the paper report you used to file via US Mail.  Additionally, we offer many other services that can be done online, such as the online games manager course.  Visit our website for more information or feel free to contact our office.
There is an instruction document that will assist you in completing the quarterly report that can be found here, and if you have not yet created an online account for your organization, please contact our office at 303 869 4910 to walk through setting up the account.
If you have any questions, please feel free to call or email Lisa or Denise for assistance.
Lisa:  lisa.marty@sos.state.co.us               Denise: denise.lamberth@sos.state.co.us
We look forward to working with you to make the change to online filing a simple process.
Special Notice Regarding Quarterly Report Filing Deadlines
TO ALL OUR LICENSEES:
Our office understands that your organization may currently have limited access to your information for filing of your quarterly reports. However, the dates for filing of these reports are set by Statute, and our office does not have the ability to alter these dates. We do understand that you may not have the ability to access all of your records you would normally need to complete the filing. Therefore, we are asking that you complete your quarterlies to the best of your ability. Your organization can amend or update quarterly reports as needed once you gain access to your records again. If you need further assistance, or have questions or concerns, please do not hesitate to contact our office. We can work with your organization on an individual basis as needed.
Changing or Cancelling Raffles
Bingo-Raffle licensees wishing to adjust or cancel a raffle where tickets have been sold must contact our office prior to cancelling or changing anything regarding the raffle (such as the date/time/location of the drawing or adjusting the prize(s).
Rule 8.1.6 states "A licensee may not cancel a raffle after the first raffle ticket is sold unless the licensee demonstrates to the Secretary of State (emphasis added) that it will provide notice of cancellation to all ticket purchasers and refund the purchase amount to every purchaser." 
Rule 8.1.7 states, "A licensee must not alter or postpone a raffle after the first raffle ticket has been sold unless the licensee can demonstrate to the Secretary of State (emphasis added) that purchasers of raffle tickets will not be adversely affected by a substitution of prizes, a change of time or location and that the information concerning the raffle specifically states that a purchaser need not be present at the drawing to win."
This means a licensee planning to cancel or change a raffle where tickets have been sold, must contact our office before cancelling or changing a raffle. If planning to adjust the raffle, a request must be submitted to our office which contains information for how the licensee plans to contact all current purchasers with the updated information, the number of purchasers that will need to be contacted, and an example of how all remaining unsold tickets will be adjusted with the amended information.  If wanting to cancel a raffle, the submitted request must contain how the licensee plans to contact all purchasers and how the monies for the tickets will be refunded. Either of these requests must first be reviewed and approved by our office before moving forward with any changes or cancellations for a raffle.
Website Update
The Bingo-Raffle section of the website has been recently updated to make it more user friendly for mobile devices!  If you use other devices to access our website, please let us know if you have any issues while using the website at (303) 869-4910.
Charitable Gaming Report
We feel the frustration of licensees during this difficult time with having to stop important charitable gaming activities due to COVID-19. Starting up again under the "new normal", with social distancing, masks and approval of restart plans can be stressful. At times like these the gaming proceeds can be a great benefit to the organization and those they serve. We have reviewed the 1st quarter charitable gaming numbers for 2020 and compared them with the numbers for 2019 and 2018.
The total gross amount wagered/profit from all charitable gaming as represented in the graph below are encouraging. Even with the decrease in revenue, profit continues to increase.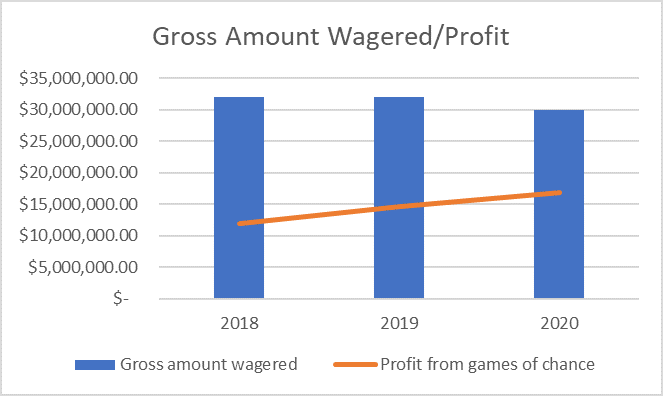 The gross amount wagered numbers for all games in the 1st quarter show lower numbers for the 1st quarter 2020 compared to 2018 and 2019, except for raffles. We believe that the state shutdown early in the pandemic contributed to the decreases. But, as indicated in the above graph, profits continue to grow.
The raffle numbers reflect three online house raffles and numerous other online raffles. We are sure that players and supporters are as anxious to get back to charitable gaming as our licensees and we'll see increases in the 3rd and 4th quarters. Hang in there, we're all in this together!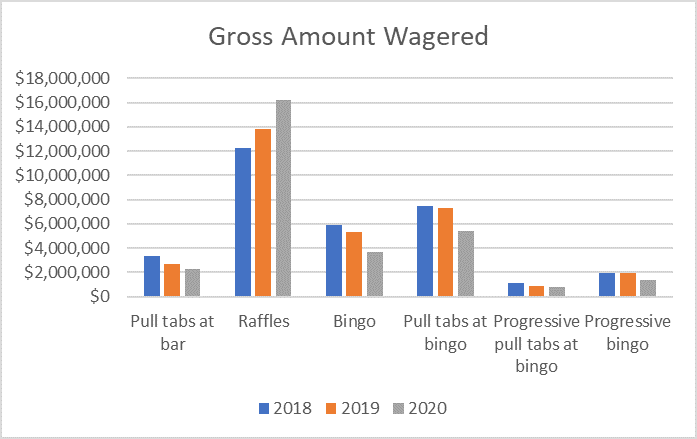 ---
Games Manager Training
Your organization must have at least one certified Games Manager in order to run charitable games. We recommend licensees maintain more than one Games Manager. To support this, we offer in-person and online Games Manager training courses.
Sign up for the online eLearning course on our website.
All live classes have currently been cancelled due to COVID 19.  Please go to the this link for further updates on live classes. 
---
Continued Thanks to Online Filers!
To those of you who continue to take the opportunity to file online – thank you! There is a persistent, positive trend in moving to online filing. We are at 82% of all bingo-raffle licensees filing online! Keep up the great work!
Also, please remember that the fees for online filing of quarterlies are cheaper than those for paper filing AND your filing is not being held up by waiting for the mail to be delivered to our office.
If you need any assistance with filing, give us a call or drop us a line – we're happy to help you take advantage of this filing method!