Quarterly Reports Due July 31
If you held a 2017 license at any time during the 2nd quarter 2017 (April, May, June), you MUST submit your LE-21 Quarterly Report form by July 31, 2017. The report covers the period from April 1 through June 30, 2017. Reports filed after this date will be assessed a $50 fine.
Please make sure you download and use the correct forms from our website, or use our online system.
In addition, please make sure to provide copies of daily forms for progressive bingo (LE-34a /LE-34b), progressive pull tabs (LE-31a), and progressive raffles (LE-34c). The progressive bingo forms should be updated after each bingo occasion and the pull tab and raffle forms should be updated regularly.
If you have any questions or concerns, contact Lisa Marty at lisa.marty@sos.state.co.us.
If you plan to conduct charitable gaming activities in 2017, you can apply for your annual license at any time during 2017 via the paper or online application form (please allow 7-10 working days processing time). This goes for new licenses and renewals. Licenses will be e-mailed to the organizational e-mail address, if provided, on the paper form, or can be printed directly from the summary page if you apply online (once your filing is accepted). Please review your application before submitting. Visit our forms page to download the paper license application or sign into your account if you wish to apply online. New applicants can start the process from here. Please contact Program Manager Shannon Bee by email at shannon.bee@sos.state.co.us with any questions.
The Colorado Bingo-Raffle Advisory Board makes recommendations to the Secretary of State's office in its regulation of the charitable gaming sector. All members of the public are encouraged to attend and contribute to this important dialogue. The next meeting is scheduled for:

When: Tuesday, August 8, 2017 from 10:00 AM-12:00 PM
Where: Aspen Conference Room, 1700 Broadway, 3rd floor
If you have any questions, please feel free to write us an email at public.licensing@sos.state.co.us.
Our office is committed to using our state-wide reach to provide timely and accurate data to the bingo/raffle community. We use the information you provide on quarterly reports to publish two informative datasets on our website:

Aggregate revenue report: this report contains a "roll-up" of total revenue, expense, and profit data for charitable gaming in the state.
Revenue by licensee: this report contains similar information broken down by individual bingo/raffle licensees. We began publishing this report in response to a request from our Bingo/Raffle Advisory Board.
Our website currently contains reports for calendar years 2013, 2014, 2015, 2016 and 1st quarter 2017. We will update the reports on a quarterly basis.
Recently the Secretary of State's office retained Mountain View Insights to conduct a survey for our office regarding bingo activities within Colorado. This survey was made available to licensees and players from May 17-June 10, 2017. The results of this survey and conclusions will be available on our website in the near future, and will also be presented at the August 8, 2017 Bingo-Raffle Board meeting. Additional information will be posted on our website. Please take a look at the results when they are posted or attend the Board meeting for a live presentation of this material.
Bingo-Raffle licensees have had the capability to submit quarterly reports online since 2015. Recently, the office has also released the capability for the licensee's to amend prior reports. PLEASE REMEMBER: amending a prior quarter will lock out the ability to do other functionality, such as filing your next quarter report, filing a change, or being able to renew your license, until the amendment is submitted and approved.
Also, amending a prior quarter is not the same as filing the next quarter report. Amending a prior report does just that, it changes the filing, much like sending an amendment in paper format. If you incorrectly go in to "amend" a report and do not wish to actually file an amendment, you can go to the summary page for the quarterlies and click on "reset filing". This will close the report with the original data and you can proceed with submitting the next quarterly, change or renewal.
In looking back over the last 6 years, we are seeing steady increases in bingo/raffle related activities. While 2016 was down slightly to $123 million from a 2015 high of $128 million we anticipate 2017 to be up based on the run rate from the first 3 months of 2017. Profit margins have continued to increase from 16% in 2010 to 20% in 2015 and 2016. With the continued interest in and increase of progressive raffles and progressive pull-tabs at bingo, it will be interesting to see how 2017 will compare.
Charitable Gaming financial reports can be found on the bingo/raffle page of the SOS website. There you can find aggregate reports as well as revenue by licensees.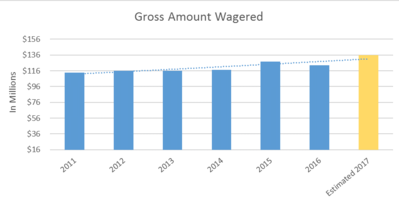 Remember, your organization must have at least one certified Games Manager in order to run charitable games, and we recommend licensees maintain more than one. We continue to offer in-person and online Games Manager training courses.
Sign up for the online eLearning course on our website.
For in-person classes, visit our Games Manager Training page and follow the instructions to sign up for a scheduled class.
The dates/times/places of upcoming Games Manager training classes follow:
Wednesday, August 30, 2017 at 5:30 PM. Four Mile Fire Department Poorman Station, 1740 Four Mile Canyon Dr, Boulder, CO 80302
Saturday, September 9, 2017 at 8:30 AM. Knights of Columbus 5768, 1076 Rose St, Burlington, CO, 80807
Saturday, September 30 at 8:30 AM. American Legion 4, 2124 County Rd 54G, Fort Collins, CO, 80535
Saturday, October 14, 2017 at 8:30 AM. American Legion 19, 121 Nelson Rd, Fort Morgan, CO, 80701
You can also sign up to host a Games Manager training course. Follow this link to provide us with a few details about you and your organization, and host a class soon.
The Games Manager mail-in certification exam is no longer available.
Each quarter, we include a few tips from our Bingo/Raffle Investigators. They gather a lot of information in the field on where licensees have trouble complying with the law. By sharing this information, we hope that licensees can better serve their customers.
AN URGENT MESSAGE FROM THE INVESTIGATORS:
Please stop purchasing supplies from unlicensed bingo suppliers. We continue to see cases where licensees have purchased bingo paper, pull tabs, and other bingo equipment from suppliers who are not licensed to conduct business in Colorado. This is a Class 1 violation, punishable by a $100 fine to the licensee who makes the purchase. This is taught in the Games Manager training classes, both in person and online. There should be no excuse for making purchases from unlicensed suppliers. When you locate a bingo supplier, please ask for their Colorado Supplier or Manufacturer license number. If they tell you they don't have one, or they don't need one, back away from the transaction until they are properly licensed. We also provide a list of all currently licensed Colorado manufacturers and suppliers on our website here.
You can access all bingo/raffle laws using our Bingo-Raffles Law Handbook.
PLEASE REMEMBER: If your organization has a credit card/debit card, EFT's or the like, set up with your Bingo-Raffle account, we will need copies of the receipts/statements from these transactions submitted with your quarterly to show where your bingo-raffle funds are being used.
In addition, if you reimburse an individual for purchasing an item for a raffle, first, this should not occur on a consistent basis, as funds used from the Bingo-Raffle account need to be written directly to the business or vendor from which the prize is being purchased. If there are circumstances where this was not possible, we would need an explanation of the circumstance where this occurred, and a copy of the receipt that was issued to the person who purchased the item to which the organization is writing a check from the bingo-raffle account.
These additions need to be submitted with each quarterly report where these circumstances occur.