Quarterly Reports Due April 30
If you held a 2017 license at any time during the first quarter 2017 (January, February, March), you MUST submit your LE-21 Quarterly Report form by April 30, 2017. The report covers the period from January 1 through March 31, 2017. Reports filed after this date will be assessed a $50 late filing fine.
Please make sure you download and use the correct forms from our website, or use the online system.
In addition, please make sure to provide copies of daily forms for progressive bingo (LE-34a /LE-34b), progressive pull tabs (LE-31a), and progressive raffles (LE-34c). The progressive bingo forms should be updated after each bingo occasion and the pull tab and raffle forms should be updated regularly.
If you have any questions or concerns, contact Lisa Marty at lisa.marty@sos.state.co.us.
If you plan to conduct charitable gaming activities at any time in 2017, you can apply for your annual license at any time during 2017 via the paper or online application form (please allow 7-10 working days processing time). This goes for new licenses and renewals. Licenses will be e-mailed to the organizational e-mail address, if provided, on the paper form, or can be printed directly from the summary page if you apply online (once your filing is accepted). Please review your application before submitting. Please visit our forms page to download the paper license application or sign into your account if you wish to apply online. New applicants can start the process from here. Please contact Program Manager Shannon Bee by email at shannon.bee@sos.state.co.us with any questions.
The Colorado Bingo-Raffle Advisory Board makes recommendations to the Secretary of State's office in its regulation of the charitable gaming sector. All members of the public are encouraged to attend and contribute to this important dialogue. The next meeting has yet to be scheduled. Please check our website for updates.

When: TBD
Where: TBD
If you have any questions, please feel free to write us an email at public.licensing@sos.state.co.us.
PLEASE REMEMBER: Under no circumstances can bingo cards/sheets and/or pull tabs be given away as a door prize or a raffle prize. As per Rule 4.1.3…"A licensee (a) Must sell all cards, packs and sheet at a set price" and 5.1.1..."Price. A licensee may not sell a pull tab ticket for a price different than the price stated on the deal's flare." The law does not allow for bingo paper or pull tabs to be given away as a prize in a raffle or for free as a door prize.
Our office is committed to using our state-wide reach to provide timely and accurate data to the bingo/raffle community. We use the information you provide on quarterly reports to publish two informative datasets on our website:

Aggregate revenue report: this report contains a "roll-up" of total revenue, expense, and profit data for charitable gaming in the state.
Revenue by licensee: this report contains similar information broken down by individual bingo/raffle licensees. We began publishing this report in response to a request from our Bingo/Raffle Advisory Board.
Our website currently contains reports for calendar years 2013, 2014, 2015 and 2016. We will update the reports on a quarterly basis.
Each year the Colorado Secretary of State's office issues hundreds of raffle licenses.
And three nonprofit licensees — The Boys and Girls Cub of Metro Denver, St. Jude's Children's Research Hospital and Children's Hospital of Colorado — offer a dream home as the grand prize.
Raffle tickets for the three nonprofit licensees range from $100 to $150.
The Boys and Girls Club offers a safe place for children by providing after-school programs, a meal, help with homework, or whatever else a child may need. A membership is only $2 annually for a child, thanks to fundraising events such as the "Dream House Raffle." The slogan is "Your chance to win is their ticket to thrive."
The grand prize this year is a 9,500-square foot house in the Stapleton/Lowry area.
The winner is offered the option to forgo the house and take $2 million in cash instead. Shannon Bee, the Secretary of State's office's bingo & raffle supervisor, said Boys and Girls Club of Metro Denver has been doing successful house raffles since 1995.
Children's Hospital of Colorado does not offer a cash option but it does cover the cost of one year of taxes on their dream home as well as some of their other top prizes.
Children's Hospital Colorado is the leading center for children's health in their seven-state region. Children's pioneers new methods of treatment and care made possible through fundraisers such as the mighty millions raffle.
In addition to dream homes, prizes such as cars, vacations, gadgets and various other items are raffled off. The dream home offered this year is in Denver's Bonnie Brae neighborhood.
St. Jude also conducts dream home raffles in Colorado among other states. The nonprofit licensee offers two homes in Colorado this year, one in the Denver area and one in the Colorado Springs area.
For St. Jude, it's a win-win situation. Winners receive their dream home and are helping to end childhood cancer. St. Jude research hospital offers their services to patients and their families free of charge thanks to donations and raffles like the Dream Home giveaway.
Our office has noted on several occasions that Bingo-Raffle licensees have cancelled a raffle where tickets have been sold without contacting our office prior to cancellation. Rule 8.1.6 states "A licensee may not cancel a raffle after the first raffle ticket is sold unless the licensee demonstrates to the Secretary of State (emphasis added) that it will provide notice of cancelation to all ticket purchasers and refund the purchase amount to every purchaser."
This means a licensee planning to cancel a raffle that has had tickets sold must contact our office before cancellation with a request to cancel the raffle. In that request the licensee needs to give an outline of the plan of how the purchasers of tickets will be contacted and money returned for the purchase price of the tickets by the licensee. Once the request is received, our office will review, and if adequate, will give the licensee written permission to cancel the raffle under the conditions outlined in the request for contacting purchasers and refunding their money.
As we start a new year of bingo/raffle reporting it's good to look back at previous years to see what trends are showing. The overall profit for all charitable gaming has remained consistent right at 11-12%.
Raffles and progressive pull tabs at bingo are the only activities showing variation.
Progressive pull tabs at bingo have increased dramatically with sales increasing from $124,125 in 2015 to $712,500 in 2016. The increase in popularity of this game is encouraging and the profit shown by organizations operating this game is at 14%.
Both progressive and regular raffles have shown dramatic increases in revenue but since 2014 the net profit has balanced out to a more consistent 47% for raffles and 41% for progressive raffles.
You can see much more detail on our office's quarterly charitable gaming financial report, located in PDF form on our website. The reports are only as accurate as the information received from licensees.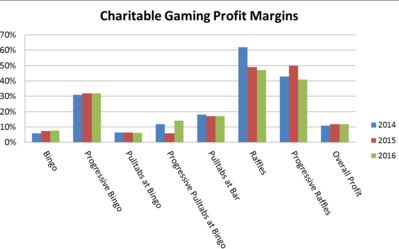 Remember, your organization must have at least one certified Games Manager in order to run charitable games, and we recommend licensees maintain more than one. We continue to offer in-person and online Games Manager training courses.
Sign up for the online eLearning course on our website.
For in-person classes, visit our Games Manager Training page and follow the instructions to sign up for a scheduled class.
The dates/times/places of upcoming Games Manager training classes follow:
Saturday, May 13, 2017 at 8:30 AM. BPO Elks 1789, 2100 Dolores Rd (Hwy 145), Cortez, CO 81321
Thursday, May 18, 2017 at 5:30 PM. LO Moose 21, 4688 W Alameda Ave, Denver, CO, 80219
Saturday, June 24, 2017 at 8:30 AM. BPO Elks 2286, 12939 Hwy 6 & 24, Glenwood Springs, CO, 81601
Saturday, August 19 at 8:30 AM. American Legion 19, 121 Nelson Rd, Fort Morgan, CO, 80701
You can also sign up to host a Games Manager training course. Follow this link to provide us with a few details about you and your organization, and host a class soon.
The Games Manager mail-in certification exam is no longer available.
Each quarter, we include a few tips from our Bingo/Raffle Investigators. They gather a lot of information in the field on where licensees have trouble complying with the law, and this is one strategy for using that information to help you. We'll include rule and statute citations with these tips so you can do more research.
AN URGENT MESSAGE FROM THE INVESTIGATORS:
Please stop purchasing supplies from unlicensed bingo suppliers. We continue to see cases where licensees have purchased bingo paper, pull tabs, and other bingo equipment from suppliers who are not licensed to conduct business in Colorado. This is a Class 1 violation, punishable by a $100 fine to the licensee who makes the purchase. This is taught in the Games Manager training classes, both in person and online. There should be no excuse for making purchases from unlicensed suppliers. When you locate a bingo supplier, please ask for their Colorado Supplier or Manufacturer license number. If they tell you they don't have one, or they don't need one, back away from the transaction until they are properly licensed. We also provide a list of all currently licensed Colorado manufacturers and suppliers on our website here.
You can access all bingo/raffle laws using our Bingo-Raffles Law Handbook.
Licensees have been able to file quarterly reports online since 1st quarter 2015. We have seen a great response to the online quarterly filings. The numbers have gone from 371 filing online quarterly reports to 625 in the 4th/2016.