Quarterly Reports Due October 31
If you held a 2016 license at any time during the second quarter (July, August, September), you MUST submit your LE-21 Quarterly Report form by October 31. The report covers the period from July 1 through September 30, 2016. Reports filed after this date will be assessed a $50 late filing fine.
Please make sure you download and use the correct forms from our website, or use the online system.
In addition, please make sure to provide copies of daily forms for progressive bingo (LE-34a /LE-34b), progressive pull tabs (LE-31a), and progressive raffles (LE-34c). The progressive bingo forms should be updated after each bingo occasion and the pull tab and raffle forms should be updated regularly.
If you have any questions or concerns, contact Lisa Marty at lisa.marty@sos.state.co.us.
If you plan to conduct charitable gaming activities at any time in 2017, you can apply for your annual license at any time after November 1, 2016 (please allow 7-10 working days processing time for our office to issue a license if using the paper form), or use the new online system described above. This goes for new licenses and renewals. Licenses will be e-mailed to the organizational e-mail address, if provided, on the paper form, or can be printed directly from the summary page if you apply online (once your filing is accepted). Please review your application before submitting. Please visit our forms page to download the paper license application or sign into your account if you wish to apply online. New applicants can start the process from here. Please contact Program Manager Shannon Bee by email at shannon.bee@sos.state.co.us with any questions.
The Colorado Bingo-Raffle Advisory Board makes recommendations to the Secretary of State's office in its regulation of the charitable gaming sector. All members of the public are encouraged to attend and contribute to this important dialogue. The next meeting has yet to be scheduled. Please check our website for updates.

When: TBD
Where: TBD
If you have any questions, please feel free to write us an email at public.licensing@sos.state.co.us.
Interested in being on the Board? There are positions available (currently a Landlord licensee representative and Veterans organization representative). If you are interested, please review on our website.
Our office is committed to using our state-wide reach to provide timely and accurate data to the bingo/raffle community. We use the information you provide on quarterly reports to publish two informative datasets on our website:
Aggregate revenue report: this report contains a "roll-up" of total revenue, expense, and profit data for charitable gaming in the state.
Revenue by licensee: this report contains similar information broken down by individual bingo/raffle licensees. We began publishing this report in response to a request from our Bingo/Raffle Advisory Board.
Our website currently contains reports for calendar years 2013, 2014, 2015 and 1st and 2nd quarter 2016. We will update the reports on a quarterly basis.
Secretary of State Wayne Williams has announced a new e-filing initiative to support Colorado's charitable gaming community. The Colorado Department of State will now accept electronic filings for new and renewing bingo-raffle license applications. Beginning November 1st, licensees may submit and pay for their new or renewing license online.
To streamline the license application process, and provide greater service to our licensees, all online filings will be paid for at the time of submission. Acceptable forms of payment include MasterCard, Visa, American Express, Discover or prepaid account.
Please keep in mind that this functionality is only available to nonprofit licensees. Similar functionality will be available for halls, suppliers, and manufacturers in the future and we will keep you updated through the newsletter and other communications.
If you have Bingo-Raffle questions or need additional assistance please call the Bingo & Raffles program at 303-869-4910 or email us at licensing@sos.state.co.us
If your organization wishes to use a credit/debit card to pay for items that you want to expend bingo-raffle monies, that credit card must be linked directly to your bingo-raffle account. Transferring funds either from the bingo-raffle account to another account of the licensee or vice versa is a violation of bingo-raffle law. Credit card payments must be withdrawn directly from the bingo-raffle account, with a card dedicated to only that account.
The quarterly reporting numbers for 2016 to date show a positive trend in charitable gaming.
Bingo, pull-tab at bingo and bar all reflect steady trends. We anticipate these numbers will remain constant through the remainder of 2016.
The 2015 raffle numbers reflect some reporting issues which affect the overall profit for 2015. These numbers are being reviewed. We anticipate the raffle profit will reflect positive trends by the end of 2016.
Raffle revenue has increased from $14.9 million in 2013 to $25.8 million in 2015. Revenue is strong at $18.8 million for the first half of 2016.
You can see much more detail on our office's quarterly charitable gaming financial report, located in PDF form on our website.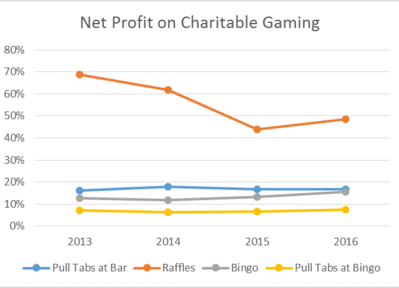 Remember, your organization must have at least one certified Games Manager in order to run charitable games, and we recommend licensees maintain more than one. We continue to offer in-person and online Games Manager training courses.
Sign up for the online eLearning course on our website.
For in-person classes, visit our Games Manager Training page and follow the instructions to sign up for a scheduled class.
Here are the dates/times/places of upcoming scheduled Games Manager training classes:
Saturday, October 29, 2016 at 9:00 AM. Steamboat Springs Community Center (hosted by American Legion 44), 1605 Lincoln Ave, Steamboat Springs, CO 80487
Saturday, November 5, 2016 at 8:00 AM. American Legion 21, 500 9th St, Golden, CO 80401
You can also sign up to host a Games Manager training course. Follow this link to provide us with a few details about you and your organization, and host a class soon.
The Games Manager mail-in certification exam is no longer available.
It has come to our attention that more and more organizations appear to be reimbursing individuals for purchasing items such as raffle prizes to be used in fundraising activities for the organization. This should not occur on a consistent basis, as funds used from the Bingo-Raffle account need to be written directly to the business or vendor from which the prize is being purchased. If there are circumstances where this was not possible, we would need an explanation of the circumstance where this occurred, and a copy of the receipt that was issued to the person who purchased the item to which the organization is writing a check from the bingo-raffle account. This needs to be submitted with each quarterly report. Again, this practice should not be the norm, and will require the submission of additional items for verification that bingo-raffle funds were expended correctly when these occurrences appear on the quarterly report.
Recently, our office has noticed an increase in licensees planning to give alcohol as a prize in games of chance, especially as raffle prizes. Please remember, the Bingo and Raffles Law prohibits licensees from offering alcoholic beverages of any kind (CRS 12-9-107(4)). Giving alcoholic beverages as prizes is a Class 2 violation, which carries a fine of $75 per occurrence (Rule 15.3.2(d)). If you have any questions about prizes, do not hesitate to contact our office directly so we can assist you before any violations occur.