Quarterly Reports Due April 30
If you held a 2016 license at any time during the first quarter (Jan, Feb, March), you MUST submit your LE-21 Quarterly Report form by April 30. The report covers the period for January 1 through March 31, 2016. Reports filed after this date will be assessed a $50 late filing fine.
Please make sure you download and use the correct forms from our website, or use the online system.
In addition, please make sure to provide copies of daily forms for progressive bingo (LE-34a/LE-34b), progressive pull tabs (LE-31a), and progressive raffles (LE-34c). The progressive bingo forms should be updated after each bingo occasion and the pull tab and raffle forms should be updated regularly. 
If you have any questions or concerns, contact Lisa Marty at lisa.marty@sos.state.co.us.
If you plan to conduct charitable gaming activities at any time in 2016, you can apply for your annual license at any time (please allow 7-10 working days processing time for our office to issue a license). This goes for new licenses and renewals. Licenses will be e-mailed to the organizational e-mail address provided on the application unless one is not provided or the organization specifically requests the hard copy be mailed. Please review your application before submitting to be sure your current organization e-mail is correct. Please visit our forms page to download the license application and contact Program Manager Shannon Bee by email at shannon.bee@sos.state.co.us with any questions.
The Colorado Bingo-Raffle Advisory Board makes recommendations to the Secretary of State's office in its regulation of the charitable gaming sector. All members of the public are encouraged to attend and contribute to this important dialogue. The next meeting has yet to be scheduled.  Please check our website for updates.

When:  TBD
Where: TBD
Come join the meeting to share your thoughts on bingo and raffle activities in our state.
If you have any questions, please feel free to write us an email at public.licensing@sos.state.co.us. 
Interested in being on the Board?  There are positions available (currently a Landlord licensee representative and Veterans organization representative).  If you are interested, please review on our website.
Our office is committed to using our state-wide reach to provide timely and accurate data to the bingo/raffle community. We use the information you provide on quarterly reports to publish two informative datasets on our website:
Aggregate revenue report: this report contains a "roll-up" of total revenue, expense, and profit data for charitable gaming in the state.
Revenue by licensee: this report contains similar information broken down by individual bingo/raffle licensees. We began publishing this report in response to a request from our Bingo/Raffle Advisory Board.
Our website currently contains reports for calendar years 2013, 2014 and 2015. We will update the reports on a quarterly basis.
It has recently come to our attention that there have been a few instances of Bingo-Raffle licensees buying bingo supplies from unlicensed sources.  Per CRS 12-9-107(11): " A licensee shall not possess, use, sell, offer for sale, or put into play any bingo or pull tab game, ticket, card, or sheet unless it conforms to the definitions and requirements of this article and was purchased by the licensee from a licensed bingo-raffle manufacturer or supplier or licensed agent thereof. A licensee shall not possess, use, sell, offer for sale, or put into play any electronic device used as an aid in the game of bingo unless it conforms to the requirements of this article and was purchased or leased by the licensee from a licensed bingo-raffle manufacturer or supplier or licensed agent thereof."
It is a violation of Bingo-Raffle law for a Bingo-Raffle licensee to purchase supplies from unlicensed suppliers or manufacturers, and constitutes a finable offense.  The Secretary of State's office would encourage any group looking at purchasing equipment to conduct their games of chance to ask the supplier/manufacturer for their current Colorado License number or contact our office prior to buying any supplies, if there is any question if the supplier/manufacturer is licensed within Colorado. 
Though raffles are a great way to bring in funding for your organization, there are some basic concepts that must be followed in regard to running a raffle legally.
Here are a few tips:
1. Raffle tickets for "large" raffles (total prizes valued over $1000) must contain very specific information. Take a look at these requirements contained in Bingo and Raffles Rule #8 on our website. (If you are considering online sales, please refer to our FAQ section under "Raffles").

2. If the total retail value of the prizes for a raffle is greater than $1000, you must submit a voided copy of the raffle ticket with us before initiating ticket sales. We would suggest filing a draft with us prior to printing tickets so that we can catch any errors and help you correct them before you print the entire set.  Please remember, we will need time to review the draft ticket and get back with you.  We will need between 3-5 working days to review the draft ticket, so please plan accordingly. 
3.Additionally, when you do submit the void to our office, and you want verification of approval, please ask for this in a letter sent with the ticket.  Unless a void ticket is incorrect when we receive it, and a response is not requested, we will only check the ticket for accuracy, and if no issues arise, it will be data entered and filed with your organization's information.
4.All raffle activity (either selling tickets or having the drawing) during a particular quarter must be reported on your quarterly report.   
2015 was a good year with gross amount wagered on charitable games up nearly $11,000,000 from 2014 ($116,279,310 in 2014 $127,279,056 in 2015).   This was due in large part to the increase in raffles. 
Progressive raffles started in 2013 with only $250 in total amount wagered.  But in 2015 the gross amount wagered was $215,500, with gross income up $80,000.
The gross amount wagered on raffles was up considerably in 2015.  We had over 20 online raffles (four of the raffles were for homes) and numerous vehicle raffles with both online and hard ticket sales.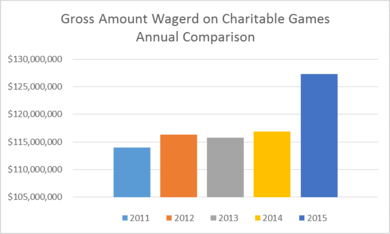 Remember, your organization must have at least one certified Games Manager in order to run charitable games, and we recommend licensees maintain more than one. We continue to offer in-person and online Games Manager training courses.
Sign up for the online eLearning course on our website.
For in-person classes, visit our Games Manager Training page and follow the instructions to sign up for a scheduled class.
Here are the dates/times/places of upcoming scheduled Games Manager  training classes:
Saturday, May 14, 2016 at 8:30 AM.  Knights of Columbus 1062, 330 White Ave, Grand Junction, CO 81501
Thursday, May 19, 2016 at 5:30 PM.  Our Lady of Loreto, 18000 E Arapahoe Rd, Foxfield, CO 80016
Saturday, June 4, 2016 at 8:00 AM.  Knights of Columbus 2160, 2600 6th Ave, Greeley, CO 80631
You can also sign up to host a Games Manager training course. Follow this link to provide us with a few details about you and your organization, and host a class soon. 
The Games Manager mail-in certification exam is no longer available. 
Please remember:
If a potential raffle prize is donated to your organization, you will still need to report the retail value of the prize on your quarterly, regardless if there was no cost to the organization to obtain it. The quarterly report asks for the "Retail value of raffle merchandise prizes." This is the line where you must enter a value (not what you did or did not pay to obtain the prize, but what the prize would have cost if you did have to pay for it). If you ever have questions, please do not hesitate to contact our office.