Quarterly Reports Due April 30
If you hold a 2015 license, you MUST submit your LE-21 Quarterly Report form by April 30. The report covers the period for January through March. Reports filed after this date will be assessed a $50 late filing fine.
Please make sure you download and use the correct forms from our website.
In addition, please make sure to provide copies of daily forms for progressive bingo (LE-34a/LE-34b), progressive pull tabs (LE-31a), and progressive raffles (LE-34c). The progressive bingo forms should be updated after each bingo occasion and the pull tab and raffle forms should be updated regularly. 
If you have any questions or concerns, contact Lisa Marty at lisa.marty@sos.state.co.us.
Starting in the first quarter of 2015, we will require all licensees to submit segregated bank information (Form LE-21a) with each quarterly report.
Please note that the bank form contains beginning and ending balances for the quarter.  The form must be complete and must be submitted with each report filed.
We've received a lot of questions regarding 50/50 raffles and how they differ from regular raffles.  The simple answer is, they don't.  Anything that meets the definition of a raffle is regulated by our office and falls under Rule 8 in the Bingo and Raffle Rules.  A 50/50 is not a special type of raffle, it is just a regular raffle where a cash prize is given (typically 50% of net or gross proceeds).  


Just as in any other raffle, specific ticket requirements kick in when the value of the prizes is over $1,000, and you must submit draft or void tickets to our office prior to starting sales.


When reporting 50/50 raffles on your quarterly report, make sure you report the entire revenue (all money taken in) on line 1.18 or 1.20 on the paper form, and under the "Revenue" tab if you are filing online.  The payouts (50% of the revenue) will be reflected on line 2.8 or 2.11 or under the "Payouts" tab online.   The profit (50%) will be reflected in the net proceeds, which are automatically calculated if you file online.


Please do not hesitate to contact us if you have questions.
The Colorado Bingo-Raffle Advisory Board makes recommendations to the Secretary of State's office in its regulation of the charitable gaming sector. All members of the public are encouraged to attend and contribute to this important dialogue. The Advisory Board will hold its first meeting of the year in April.


When:  Wednesday, April 15, 2015 at 10:00am


Where: 1700 Broadway,  Denver, CO 80290, Blue Spruce Room (Second Floor)
Come join the meeting to share your thoughts on bingo and raffle activities in our state.
If you have any questions, please feel free to write us an email at public.licensing@sos.state.co.us.
Our office is committed to using our state-wide reach to provide timely and accurate data to the bingo/raffle community. We use the information you provide on quarterly reports to publish two informative datasets on our website:

Aggregate revenue report: this report contains a "roll-up" of total revenue, expense, and profit data for charitable gaming in the state.
Revenue by licensee: this report contains similar information broken down by individual bingo/raffle licensees. We began publishing this report in response to a request from our Bingo/Raffle Advisory Board.
Our website currently contains reports for calendar year 2013 and for the first three quarters of 2014. We will update the reports on a quarterly basis.
We are very excited to announce that, for the first time, the bingo-raffle program will accept electronic filing. Starting immediately, all nonprofit licensees can submit and pay for quarterly report filings online.
"This is just the latest initiative by my office to make compliance simpler for Colorado's charitable community," Secretary of State Wayne Williams remarked. "Electronic filing will save time and money for Colorado's bingo-raffle licensees, providing more money for Colorado charities."
Electronic filing reduces the time necessary to submit and process required forms. It will also streamline the communications process between the Department of State and your organization. Filing fees will be reduced for licensees who file online, and e-filing may save you up to 10% on your quarterly fees.
"The e-filing system was easy to access and use," said Christine Krueger, one of the Games Managers who tested the new system. "It will save our group time in preparing and submitting the quarterly, and we do not have the costs of paper, ink, stamps and time."
You may have received an email with instructions for accessing the online filing system and setting up your organization's account. You can also access the system and set up your account from our "Forms" page at http://sos.state.co.us/pubs/bingo_raffles/bingoForms.html.
You will find quarterly filing instructions on our website at http://sos.state.co.us/pubs/bingo_raffles/instructions/QRe-file.pdf.
Please keep in mind that this functionality is currently only available to nonprofit licensees. Similar functionality will be available for halls, suppliers, and manufacturers in the future, and we will keep you updated through this newsletter and other communications.

Each quarter, we include a few tips from our Bingo/Raffle Investigators. They gather a lot of information in the field on where licensees have trouble complying with the law, and this is one strategy for using that information to help you. We'll include rule and statute citations with these tips so you can do more research.
You can access all bingo/raffle laws using our Bingo-Raffles Law Handbook. Here are this quarter's tips:
When there is a dispute in a bingo game and the Games Manager is not clear on the proper way to proceed, you should not pay any prize money until the dispute is resolved through the use of the law book.  Rule 3 provides guidance on how bingo games must be played.  If the dispute is not resolved, then no payment should be made, and you should contact our office. Rule 3.3.1 states that "While investigating disputed prizes, the Secretary of State may instruct a licensee to pay a disputed prize if the preponderance of the evidence is in favor of the player". 
In addition, always be sure that you have the proper signage in place at all times.  That includes:
Materials and notices that a licensee must post (Rule 2.4)

Signs by each televisions monitor (rule 3.1.3)

Progressive jackpot bingo game rules (Rule 3.2)

Notification that all unsold tickets in a last sale pull tab game are not in the container (Rule 5.3.1 & 5.3.2).  
This is not an exhaustive list of the signs and notices, but they are the ones that come up most often.  Please be sure you understand all the laws and rules before proceeding.
Feel free to contact Investigator Darleen Herrera with questions at darleen.herrera@sos.state.co.us.
Quarterly Data Points: Annual Profits
The graph below shows that spending on charitable games for 2014 was on track with numbers from previous years.  Spending increased about $330,000 from 2013, and was off by about the same amount from its four-year peak in 2012.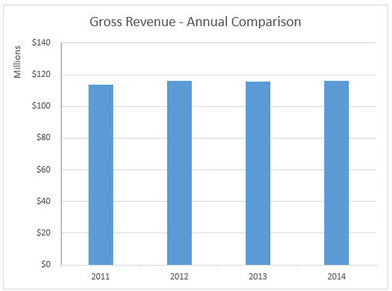 When we break out the amounts wagered in 2014 between game types, bingo activities (bingo and pull tabs at bingo) account for the largest share, with bar pull tabs and raffles a distant third. Progressive bingo makes up a fairly small amount of total revenue, while progressive pull tabs have faded from the map.
We look forward to seeing what 2015 will bring, as 936 nonprofit organizations have already received licenses.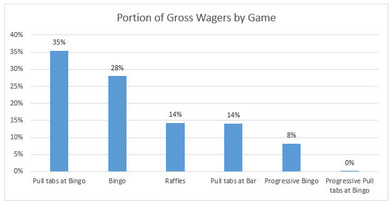 Remember, your organization must have at least one certified Games Manager in order to run charitable games, and we recommend licensees maintain more than one. We continue to offer in-person and online Games Manager training courses.
Sign up for the online eLearning course on our website.
For in-person classes, visit our Games Manager Training page and follow the instructions to sign up for a scheduled class.
You can also sign up to host a Games Manager training course. Follow this link to provide us with a few details about you and your organization, and host a class soon. 
Please note that the Games Manager mail-in certification exam is no longer available.