Quarterly Reports Due April 30
If you hold a 2014 license, you MUST submit your LE-21 Quarterly Report form by April 30. The report covers the period for January through March. Reports filed after this date will be assessed a $50 late filing fine.
Remember, quarterly fees have reverted to prior levels, so please make sure you download and use the correct forms from our website.
If you have any questions or concerns, contact Lisa Marty at lisa.marty@sos.state.co.us.
Our office is committed to using our state-wide reach to provide timely and accurate data to the bingo/raffle community. In that spirit, we publish two quarterly financial reports on our website:

Aggregate revenue report: this report contains a "roll-up" of total revenue, expense, and profit data for charitable gaming in the state.
Revenue by licensee: this is a new report that contains similar information broken down by individual bingo/raffle licensees. We began publishing this report in response to a request from our Bingo/Raffle Advisory Board.
Our website currently contains reports for calendar year 2013. We will update the reports on a quarterly basis.
We also get a lot of questions about using coupons for bingo, pulltabs, and raffles. You can find a new, easy to read Coupon FAQ on our website.
The Colorado Bingo-Raffle Advisory Board provides guidance to the Secretary of State's office in its regulation of the charitable gaming sector. All members of the public are encouraged to attend and contribute to this important dialogue. The Advisory Board will hold its next meeting in April.

When:  Wednesday, April 16 at 10:00am
Where: 1700 Broadway,  Denver, CO 80290, Blue Spruce Room (Second Floor)
Come join the meeting to share your thoughts on bingo and raffle activities in our state.
New Kid on the Block: Progressive Raffles
As we've reported in our last couple of newsletters, Colorado bingo/raffle licensees can start running specific types of progressive raffles as of January 1, 2014. The two types of allowable progressive raffles are Playing-Card Progressive Raffles and Members-Only Progressive Raffles. You can access our revised bingo/raffle law book or our progressive raffle fact sheet for more information.

Here are a few important provisions to keep in mind if you are running a progressive raffle:
Winners must be present to win in both playing-card and members-only progressive raffles.

You may not contribute more than 70% of gross ticket sales to the jackpot. The rest must go to your organization.

You can not run more than two progressive raffles at one time.

If your jackpot reaches $1,000 or more, your raffle tickets must meet the requirements listed in Rule 8.1.4. The only exception is if you are selling tickets solely to members of your organization.

You can not change ticket prices after initiating a progressive raffle.
As always, we are happy to answer any questions you may have about these new games. Feel free to write us at licensing@sos.state.co.us, or call us at (303) 894-2200.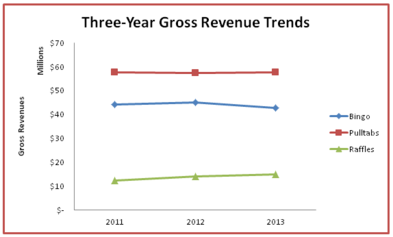 Flat bingo and pulltabs. Rising raffles. That's the story for charitable gaming in Colorado over the past three years. As the graph above shows, bingo wagers have remained almost constant since 2011, dropping about 3% to $42.6 million in 2013. Pulltabs were remarkably flat at $57.6 million in both 2011 and 2013, though they fell slightly in 2012.
Raffles, on the other hand, showed a steady increase since 2011. Ticket sales rose over 20% from $12.3 million in that year to $14.8 million in 2013. While raffle tickets still represent only about 13% of total charitable gaming revenues, that share has risen steadily over the past several years.
You can find more information on the bingo/raffle financial reports page available on our website.

We are pleased to introduce you to the newest member of the Secretary of State's Bingo/Raffle team: Lynn Waring. Here's a little bit about Lynn in her own words:
"I'm excited to be a part of the bingo/raffle team!  My previous experience includes over two years at the Secretary of State's Service Center, where I helped a wide range of customers solve issues and answer questions. Prior to that, I spent 11 years at the Boulder County Clerk & Recorder and Public Trustee offices.  I live in Arvada with my husband, and often get a chance to babysit my two grandchildren."
Welcome, Lynn!

Remember, your organization must have at least one certified Games Manager in order to run charitable games. We continue to offer in-person and online Games Manager training courses.
Sign up for the online eLearning course on our website.
For in-person classes, visit our Games Manager Training page and follow the instructions to sign up. See table below for the current schedule.

You can also sign up to host a Games Manager training course. Follow this link to provide us with a few details about you and your organization, and host a class soon.