As we reported in our last newsletter, the Colorado General Assembly in May passed House Bill 13-1101, which added progressive raffles as one of the allowable charitable gaming activities.

This legislation becomes effective on January 1, 2014. In the meantime, you can help us write effective rules for progressive raffles by providing written comments and by attending our public rules hearing, to be held on October 2. See the announcement on the right for details.
Quarterly Reports due October 31
If you hold a current 2013 license, you MUST submit your LE-21 Quarterly Report form by October 31, 2013. The report covers the period for July through September. Reports filed after this date will be assessed a $50 late filing fine.

Remember, quarterly fees have reverted to prior levels, so please make sure you download and use the correct forms from our website.
If you have any questions or concerns, contact Lisa Marty at lisa.marty@sos.state.co.us.
In our last newsletter, we announced that all bingo/raffle fees would revert to prior levels starting July 1, 2013.
Please remember that quarterly report fees are once again calculated based on a percentage of your organization's gross revenues. The annual license fee has also returned to $100 (see below).
Please visit our forms page to download the latest quarterly report and licensing forms, which include the new fees. Please feel free to get in touch with any questions at 303-894-2200 or licensing@sos.state.co.us.

If you plan to conduct charitable gaming activities in 2014, you can apply for your annual license starting on November 1, 2013. This goes for new licenses and renewals. Please visit our forms page to download the license application and contact Program Manager Shannon Bee by email at shannon.bee@sos.state.co.us with any questions.
The Colorado Bingo-Raffle Advisory Board Meeting will close out the year with meetings  in November and December. All members of the public are welcome to attend and participate.
When:  November 6 and December 11 at 10:00am  
Where: 1700 Broadway, Blue Spruce Room (Second Floor), Denver, CO 80290 
Come join the meeting to share your thoughts on bingo and raffle activities in our state.
We continue to offer in-person and online Games Manager training courses.
Over 800 people have taken our online eLearning course. Many organizations have benefited by training more than one Games Manager. For more details, and to sign up, visit our website.
For in-person classes, visit our Games Manager Training page and follow the instructions to sign up. 
You can also sign up to host a Games Manager training course. Follow this link to provide us with a few details about you and your organization, and host a class soon.
Reminder: Rules Hearing
Our office is considering proposed revisions to the rules governing Colorado charitable gaming activities. We will hold a hearing regarding the proposed changes on October 2. If your organization holds a bingo-raffle license, or if you work with a bingo hall, supplier, or manufacturer, these changes will affect you!

Date: Wednesday, October 2 
Time: 9:00am-12:00pm
 Location: Blue Spruce Conference Room
Secretary of State's Office, 1700 Broadway, Denver, CO 80290
On August 29, we released a set of preliminary draft rules and a draft statement of basis and purpose, which outline all of the changes being considered. You can take a look at the draft rules and other related documents on our website.
We encourage you to attend the hearing on October 2. If you are unable to attend, you may listen to the live broadcast online at:

www.sos.state.co.us/pubs/info_center/audioBroadcasts.html.

Between now and October 2, you may also submit your comments and suggestions to our office by phone, email or in person.
Your input will be vital in making sure these rules provide support and address the issues that are most important to the Colorado Bingo-Raffle community.
The lives of residents in over 52 villages in the Philippines will be markedly improved thanks to the efforts of bingo volunteers at Holy Cross Catholic Church in Thornton. 
The church has used bingo and pull tab proceeds to build and provide financial support to a sister parish in the Philippines. Over time, Holy Cross has shipped over 432 boxes filled with items such as clothing, canned meat, children's vitamins, and  toothbrushes to their partners on the other side of the globe.

Last year alone, Holy Cross raised over $327,000 through their weekly bingo occasion at Turn II Bingo in Denver, over $73,000 of which went directly to support the church's activities.
Holy Cross is just one of over 1,200 Colorado organizations doing great work using funds raised through charitable gaming. Read more about Holy Cross and other Colorado nonprofits on our Success Story webpage.
And while you're at it, tell us your story! Submit your idea for a success story to greg.lestikow@sos.state.co.us. Please include the name of your organization and two or three sentences about the work that you do with bingo and raffle proceeds. We look forward to hearing from you!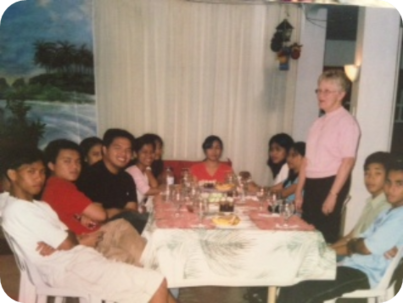 A group of beneficiaries of Holy Cross's work in the Philippines.
Our three-year analysis of charitable gaming in the state shows that profit margins for most game types remained relatively constant.  Raffles are the clear winner for the last year: profits rose by nearly 10 percentage points from 2012 and, at 70 percent margins, they are by far the most profitable game in Colorado.  This is due in large part to a couple of big raffles this year, including two house raffles and a new series of 50/50 raffles at the Pepsi Center.
Bingo, pulltabs and the progressive games do not show great increases over previous years.  Progressive bingo games typically turn a good profit, while  progressive pulltabs at bingo occasions fluctuate drastically, mostly because only a few groups have this type of activity.
Overall we see a small increase in profitability for the first half of 2013 over the previous two years.  Of course, these figures reflect only the first two quarters of 2013, so we hope a strong second half of the year will bump these numbers up a bit.
Like these numbers? You can see much more detail on our office's quarterly charitable gaming financial report, located in PDF form on our website.